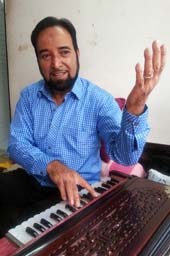 Inspite of various restictions, Amar Kumar pursued his childhood singing hobby with all the zeal and commitment. His career of three decades in Music were nurtured and fine tuned by great Guru - Shri Nagendra Munji and thereafter in the Classical Music by Shri Yamin Khan Sarodia of Meerut, Shri Hafeez Khan of Delhi and Shri Ameer Ahmad Khan of Calcutta. He belongs to "Kirana Gharana".

Completed PRABHAKAR from Prayag Sangeet Samiti, Meertut and M. Music from Jhansi Degree College. As a "B" Artist, he sang on Radio - Geets, Chazals and Bhajans. Performed on stage at various places in the Country and Overseas. He also sang many songs for small budget films.

Presently, aprt from regular stage performances, Amar Kumar is full time involved in the teaching of music at a well-known Music Academy in Mumbai - "Vindo Sur Shringaar Academy", Andheri (W), Mumbai.